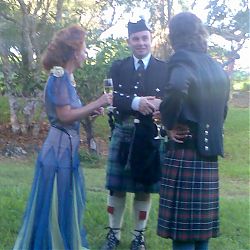 Fill the air with passion and spirit and make your guests hair stand on end with the heart-wrenching emotional sound of Scottish bagpipes.
When arriving at the church you want to see an immaculate piper deliver the best slice of Scottish Culture your ears have ever heard and you can rely on David to do that for you.
Being a Wedding Piper is the specialty of David Greenhalgh. His professional approach to wedding piping and his large repertoire of touching and melodic tunes ensures that he will add a professional touch of Scottish heritage to your big day.
A tailored and personal service
A well turned out piper in Full Highland Dress
Piping the guests arrival at Church/Register Office/Hotel
Piping for the brides arrival, ceremony and down the aisle
Piping during the day on Small Pipes.
Piping the top table to their meal
Piping Bride and Groom to Cake
and more…